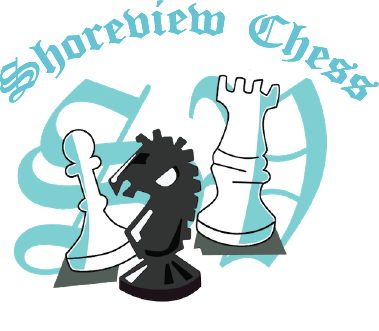 ALL TRANSACTIO
NS ARE FINAL! —> NO EXCEPTIONS and NO REFUNDS.
Services
Shoreview Chess may change services, membership plans, and any other terms at any time and without notice to parties involved. We reserve the right to refuse service to anyone.
Membership Plans
As part of our Service, we may offer membership plans and may change them and their features any time. If you sign up for a membership plan, you agree to the terms, conditions and limitations.
Fees and Renewal
Fees for purchased content, membership plans, subscriptions and other services will be stated at the time of your purchase or sign-up, as applicable, and provided in our help pages. The fees for membership plans may change at any time. Fees may be subject to tax, collected by us or a third party through which you transact, and are non-refundable except in the specific circumstances described in these Terms. We only accept credit cards for payment of your membership fees. Please do not sign up for the program with a debit card. Also known as a "check" or "ATM" card, a debit card typically has the word "debit" printed on the face of the card.
If your membership plan or subscription involves a recurring payment of a fee, unless you notify us before a charge that you want to cancel or do not want to automatically renew your membership or subscription, you understand it will automatically continue and you authorize us, or a third party through which you transact (without notice to you, unless required by applicable law) to collect the then-applicable fees and any taxes, using any credit card we have on record for you.
If all credit cards we have on file for you are declined for payment of your membership or subscription fees, we may cancel your membership or subscription, as applicable, unless you provide us with a new credit card. If you provide us with a new credit card and are successfully charged before your membership or subscription is cancelled, your new membership or subscription period will be based on the original renewal date and not the date of the successful charge.
ALL TRANSACTIO
NS ARE FINAL! —> NO EXCEPTIONS!
Membership Change Request
If you are a current Shoreview Chess member and would like to request a membership change. All membership change request must be made to with our cancellation form.
Membership Cancellations:
IT IS YOUR RESPONSIBILITY TO CANCEL

You may cancel at anytime… Your cancellation must be by the Shoreview Chess cancellation form.
Termination by Us
Our business may change over time and we reserve the right to cancel the Service and any membership plan in whole or in part, and to terminate your membership and use of the Service at our discretion without notice. If we do so, we will give you a prorated refund based on the number of days remaining in your membership unless we terminate your membership for conduct that we determine, in our discretion, violates the Terms, violates any applicable law, involves fraud or misuse of the Service, or is harmful to our interests or another user. Our failure to insist upon or enforce strict compliance with the Terms will not constitute a waiver of any of our rights.
Service Restrictions
We reserve the right to accept or refuse membership or to restrict use of the service in our discretion. You may not transfer or assign your membership or any service benefits. We may take actions we deem reasonably necessary to prevent fraud and abuse, including placing restrictions on the amount of content or other services that can be accessed from the service at any one time. We reserve the right to cancel any membership at any time without notice.
Promotional Trial Memberships During
During promotional periods we offer various trials or other promotional memberships, which are subject to the Terms except as otherwise stated in the promotional offers. We reserve the right, in our sole discretion, to determine your eligibility. Trial members may, at any time, choose not to continue to paid membership by cancelling prior to the end of the trial period. If a trial offer or a promotion requires you to have a valid payment instrument on file, such as a credit card or other permitted payment method, we may validate that payment method including by requesting a temporary authorization from the financial institution issuing your payment instrument. If we determine that your payment instrument is invalid, without limiting any of our other rights, we may revoke any benefits, Credits or Content you may have received as part of the offer.
Late Pick Up Fee
Late pick up fee ($10) will be charged 15 minutes after the end time.
Then you will be charged additional $10 for every 15 minutes there after. We are charging you the cost incurred for late pick up.
Example:
Pick up/ End Time 8:00 pm
(15 minutes late)
8:15 pm = $10
(30 minutes late)
8:30 pm = $20
(45 minutes late) 8:45 pm = $30
United States Chess Federation Membership (USCF)
It is mandatory that all Shoreview Chess members have (and be current) membership with the United States Chess Federation (USCF). If you do not have a USCF membership or have an expired USCF membership. Shoreview Chess will contact the USCF and process a membership on your behalf and you will be charged the USCF annual membership fee. A USCF membership is required to participate in rated chess tournaments.
Refunds
All transactions are final. Absolutely no refunds regardless of any circumstance! No Exceptions. Shoreview Chess will NOT provide any substitutions, make-up class, make-up tournament or provide alternative schedule.
Private Lessons
Scheduled private lessons are not refundable or transferable. If the participate misses, forgets or cancels the private lesson regardless of reason. The time and lesson is forfeited and irrevocable.
*For non-member tournament participate. If the participate misses a tournament and he/she is registered with payment. The registered participate can play in the next scheduled tournament. If the registered participate misses the next scheduled tournament. The participate will then forfeit their registration fee.
I (being the parent or guardian of the registered) hereby voluntarily waive, release and discharge Shoreview Chess LLC and all its subsidiaries, its Board of Directors, officers, teaching staff and employees from any and all liability, claims, demands, actions, rights of actions, or legal proceedings of injury, loss or damage to personal property associated with activities during the class, tournament and any other class related event or community events. Even though that liability may arise out of negligence or carelessness on the persons or entitles mentioned above. I voluntarily waive liability of all claims for damages for death, personal injury or property which I may have, or which may hereafter accrue to me, as a result of participation in said event. This release is intended to discharge any claims in advance to Shoreview Chess LLC and all its subsidiaries, affiliates, its officers, employees, teaching staff or agents from liability, I acknowledge that I understand the waiver described on this form. Waiver is made to the maximum extent permissible under applicable law. I acknowledge and give consent by registering my child in the Shoreview Chess tournament and/or chess class under my own free will. It is understood that some recreational activities involve an element of risk or danger of accidents, and knowing those risks, I hereby assume those risks. It is further understood and agreed that this waiver, release and assumption of risk is to be binding on my heirs and assigns.
I hereby give my consent to the applicant (student) treated by a physician or surgeon in case of sudden illness or injury while participating at Shoreview Chess. It is understood that Shoreview Chess LLC, its affiliates and subsidiaries provide no medical insurance for such treatment, and that the cost thereof will be at Parent/Guardian expense.

If a personal physician is listed or emergency phone number, every effort will be made to contact. However, the location of the activity or the nature of the illness or injury may require the use of emergency medical personnel.
Photographs and/or video of students are taken periodically in the classroom, in class, at class related events, tournaments or locations where the class is held to be used in class bulletins, art projects, website, yearbook, promotional materials, trophy accomplishments and/or by any other media. I give my permission to photograph and videotape the student/participate for the above purposes.
By registering with Shoreview Chess for any event or membership means: That you have read and understood the liability release, parental consent, consent to treat, photo release and agree to all their terms and conditions. You give consent for your son/daughter registered to participate in the event /activity. You agree to all terms and conditions and execute the above Liability Waiver, Medical Release and Photo Release on his/her behalf.
Student Obligations
Be ready to learn: Make sure you are ready and able! Minimize all distractions. Focus and give undivided attention to your chess lesson. Chess class is an learning environment the student is expected to be well behaved. It's expected to start lessons close to the agreed time. It is a waste of time for students to learn chess theory without playing games. Practice makes perfect! The student should play either standard (G/15 and slower) or 5-minute blitz games each week for at least a time equal to the length of your regular lesson. I recommend playing on Online.shoreviewchess.com, Chess.com, ChessKid.com, Lichess.org and ChessMagnetSchool.com. Students may also fulfill this requirement by playing rated games. If you are very busy one week (e.g. school projects or tests) then you should not miss practice the next week. Homework will be assigned from time to time. Students are expected to complete their homework without reminders. I do understand that some students are busy with school and I will respect that when setting due dates for chess homework. Be respectful!!! This may be self-explanatory during lessons, but it also applies at tournaments. I expect you to be friendly and polite towards all chess players, including your opponents, tournament directors, other adults and even your peers.
All students, members, tournament participates and parents should read this contract carefully. If you don't understand the rules, then don't hesitate to ask what I mean. I'll try to keep it simple. If you break a rule, then likely I will simply talk to you about it. For repeated or severe violations, I reserve the right to issue sanctions, including extra homework or special assignments, suspension and, in the worst case, termination of Shoreview Chess membership.
Parent/Guardian Obligations
Please make sure that your child is ready for lessons at the correct time and has completed the weekly practice and any homework. You can contact Shoreview Chess with chess related questions or concerns at any time (https://shoreviewchess.wufoo.com/forms/we-appreciate-all-feedback-/).
We welcome feedback on lessons and student progress. If your child cannot attend a lesson, please contact us at https://shoreviewchess.wufoo.com/forms/we-appreciate-all-feedback-/
If a private lesson and you need to cancel, send email notice at least 24 hours in advance. I understand that last minute conflicts do occur, but I still appreciate a brief email, text or phone call.
Accepted Payment Methods for non-member payments:
Personal Check Made Out to "Shoreview Chess",
Paypal and Stripe.
Accepted Payment Methods for Shoreview Chess Members: Recurring Payment, Stripe
P
lease let me know if you wish to make special arrangements to make payment.
IT IS YOUR RESPONSIBILITY TO CANCEL
ALL Shoreview Chess
Membership payments are by recurring auto-payment. At the time of registration you agree to recurring auto-payment. This makes the payment process easier for both parties. Please note:
You may cancel at anytime! Shoreview Chess will not assume your cancellation under any circumstance!
Your cancellation must be by the Shoreview Chess cancellation form. The cancellation form can be found at https://shoreviewchess.wufoo.com/forms/we-appreciate-all-feedback-/
Students learn best when they have a good time. Hence, it is my job to explain a variety of complex chess concepts in an interesting way. My lesson preparation draws from material that I have accumulated over the years, including the student's own games. I tailor each lesson to the skill level, strengths and weaknesses of the student. After each session, I record some comments to track what we covered and generate ideas for the next lesson. I coordinate the schedules of all students on a weekly schedule. If I'm late to an appointment, I will try my best to let you know by email or phone call. Yes, I do sometimes need to cancel lessons. I will do my best to notify students and parents by email well in advance. Typical reasons for cancellations include: holidays, chess tournaments and travel, family obligations and once in a while even a short break from all chess activities.
Waiver:

Our failure or delay in exercising any right, power, or privilege under these Terms shall not operate as a waiver thereof.